A lot of thought and consideration goes into choosing the right djembe. It can be tough to know what to look for when you're buying online, especially if it's your first drum. We're here to make the process a lot easier.
Our djembes are listed with as much information as possible, from general timber and hide descriptions to specific qualities unique to the drum in question. Our top end Master Series djembes all have their own audio files so you can hear them play. Here you'll find resources and guides to help you choose the right djembe.
Having trouble deciding between an Indonesian or Ghana Djembe? Read our Ghana vs Indo guide to help you make a decision.
All of our djembes are covered under our 5 month graduated warranty.
Your First Djembe Guide
We love connecting people with the drum of their dreams. This guide is an excerpt from our Student Handbook aimed at covering all of the basics a first time buyer should consider. Yours free: download here.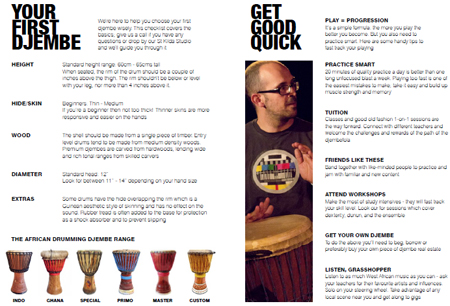 Buying for Kids & Teenagers
Here's a quick guide to selecting an age-appropriate djembe. Keep in mind that young drummers grow fast, so consider getting a drum they can grow into and still enjoy in years to come.
2yrs – 6yrs……. Recommended:The Junior Djembe
4 yrs -12 yrs….. Recommended: The Junior Djembe
10 yrs +…………… Recommended: The All Rounder o
12 yrs +…………… Recommended: The Classic
14 yrs +…………… Recommended: The Classic Plus or Super series
Videos
African Drumming's Guinean Djembes
The AD Indo Djembe Range
About Our Djembes
Each year we travel to West Africa in search of amazing djembes. Over the past decade we've been fostering relationships with the master carvers of Ghana, Mali, Ivory Coast, Burkina Faso and Guinea. We're also established in Bali where we develop affordable, quality drums that form our Indo Range.
All of our timbers are non-endangered and where possible come from sustainably sourced plantations. We skin the shells locally with carefully selected hides using quality tensile rope with low stretch ratings.
All of our drums are covered by Our 5 month warranty.
We stand by our reputation for world class drums!