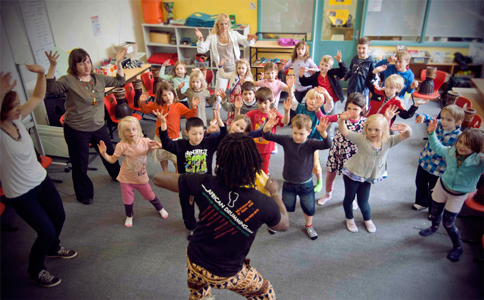 What we offer in our sessions
An inclusive and engaging experience, intended to stimulate and interest young minds. We usually deliver a mix of drumming, dancing and singing but we're always adaptable and can change it up to your specifications.
The Benefits of Drumming for Young Children
– Increases motor skill and coordination
– Improves listening and cooperative skills
– Encourages inclusiveness and sharing
– Evokes creativity and imagination
– Celebrates cultural diversity
A cultural experience
Our education in cultural awareness happens every day, but a purposeful hands-on experience that truly engages young ones is special. Our facilitators come dressed in traditional clothing and keen to introduce kids to West African culture.
Teacher Training Course
Online course with fantastic results. The Course gives you the road-ready skills and resources you need to run successful drumming sessions.
Benefits & Bookings
The benefits of drumming aren't just a hunch. The body of research and quantifiable data has boomed in the last 10 years, spurred on by the djembe's growing popularity across the world
Workshops
 Our drum and dance workshops are an engaging and memorable introduction to West African musical culture that lets kids share in a creative and positive experience