Just a few members of our international team! From West African to home-grown talent, our experienced percussionists all have extensive facilitation and performance experience
New Zealand Based Teachers
Nathan Bregmen (Head of NZ operations)
Nathan Bregmen has been playing drums since he was 13, and has been studying African drumming since 2008. Captured by the ability of African drumming to build community and bring people together playing music in a short space of time, the African Drum has quickly become Nathans instrument of choice. His light hearted but attentive teaching style has quickly made him a favourite with many students around the country. Read Nathans full bio…
Amanda Waugh
Amanda is a relative new comer on the African drum and dance scene, her passion and energy for the art form has led her to quickly develop her repertoire with many on stage performances under her belt. Her on stage charisma and non threatening style has given her the ability to engage with audiences and introduce many a novice to the exciting world of African drum and dance. She is also a big proponent of the health and fitness benefits of African dance. "There's something awesome about feeling exhausted after dancing with such joy and excitement, African Dance has this effect on me every time"
Chewy Wilson
Chewy has been playing drums (Djembe) since 2003 and has developed a huge passion for all music, especially world music. He has been working with children, young adults and corporate groups for over 5 years in many different areas using music as an interactive medium. He loves the interactions and reactions this job creates. He has performed in many different places and loves to teach Djembe.
Australia Based Teachers
Simon Fraser (Director)
Simon has been drumming his heart out all his life. Starting with plastic drum-kits and pots n pans as a kid and then graduating to a drum kit, he's played many styles of music and found his passion in West African rhythms. Annual trips to West Africa since the mid 1990's have seen him collaborate with some of the regions' great percussionists. Simon returns to the region every year in search of new music, running a Tour to Africa. His love and knowledge of rhythm translates to his teaching where he focuses on tapping into your creativity, dexterity, honoring tradition and having fun.
Read Simon's full bio…
Boubacar Gaye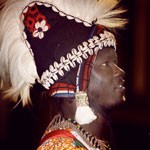 Bouba first laid his hands on a drum in Senegal at the budding age of 14. Inspired by the musical mentors around him he became a member of the infamous Mama Afrika. Under the guidance of ballet professor Joseph-Raphael Bouschanzl, Bouba's skills and passion grew quickly and soon he was also a member of the renowned Foret Sacre Ballet. In 1997 Bouba ventured to Europe and then onto Japan where he established himself as a leading African percussionists. With an energy and peace of mind that resonates from deep within – Bouba speaks a thousand words with his drum.
Shabba

Shabba is a professional dancer from Ghana, whose styles include Traditional, Contemporary, Comedy, Acrobatics, RnB and Hip Hop. He is a member of both Asanti Dance Theatre (VIC) and African Footprints (Ghana) and has performed and facilitated workshops in African dance throughout Europe. Now based in Melbourne, Shabba brings a character and energy to his teaching that is infectious to his audience. He specialises in school and community workshops and has gained an excellent reputation working with children.
 Brianna Slattery
After 10 years of playing the piano, Brianna bought her first djembe at the age of 18 – and promptly fell in love with African drumming!  This sparked an interest in all things percussive, which in turn led her to participate in African drumming, Brazilian percussion and body percussion workshops; become a facilitator of a drumming intervention/wellbeing program; and complete the L1, L2, & L3 facilitator training with African Drumming. As a primary school teacher, Brianna has been teaching drumming to school students for the past seven years. She is passionate about the use of the drum as a teaching tool, and is currently completing a Masters thesis on drumming and student engagement.  Brianna believes that being a member of a drumming community has far reaching-benefits, including: enhancing musicality, building relationships, boosting confidence and improving general well being.
David Hickey
Dave has been studying and performing west African percussion for the past 6 years.
After discovering a drum circle in St.kilda on his first week in Australia, he was drawn to the sound of the Djembe and the obsession began! Dave studied with traditional masters in Ghana in 2010 and continued his apprenticeship in Australia under the guidance of Simon Fraser, Mady Keita, Boubacar Gaye and Jeremy Prentice. Dave performs regularly in Oz and Ireland incorporating his love of African beats into myriad genres of music. He always brings his Irish charm, warmth and a sense of humor to his classes whilst still respecting the traditions and history of its origins.
Daniela

Schillaci
Daniela has held a passion for West African music and culture since 2008. Earning the nickname Dun Dun Dan, she has trained intensively on duns with Simon Fraser, Boubacar Gaye, Simon Lewis and drum-kit player Samantha Arthur.
In Dec 2013 Daniela joined Simon Fraser's Rhythm Power drum and study intensive to Ghana and Burkina Faso where she trained under Griots Sekou Coulibaly and Adama Koueta. Daniela continues to travel to Burkina Faso where she has since started her "Griot Vision" project, schooling children from the Coulibaly and Koueta families. She continues to immerse herself in the West African culture and music with dance, dun, balafon and percussion training. Daniela is always excited to share all that she has learned!
Djulz Chambers
Djulz began studying and performing West African percussion in Melbourne several years ago.  She has travelled West Africa extensively, studying with master drummers and musicians in Mali, Ghana and Burkina Faso. Based in Melbourne, Djulz continues to study and perform with some of Melbourne's most renown artists in the field including Mady Keita, Bouba Gaye, Sayon Souare and Simon Fraser. Her great love of the djembe and of African culture exudes an infectious energy and creates a fun learning environment in her classes.