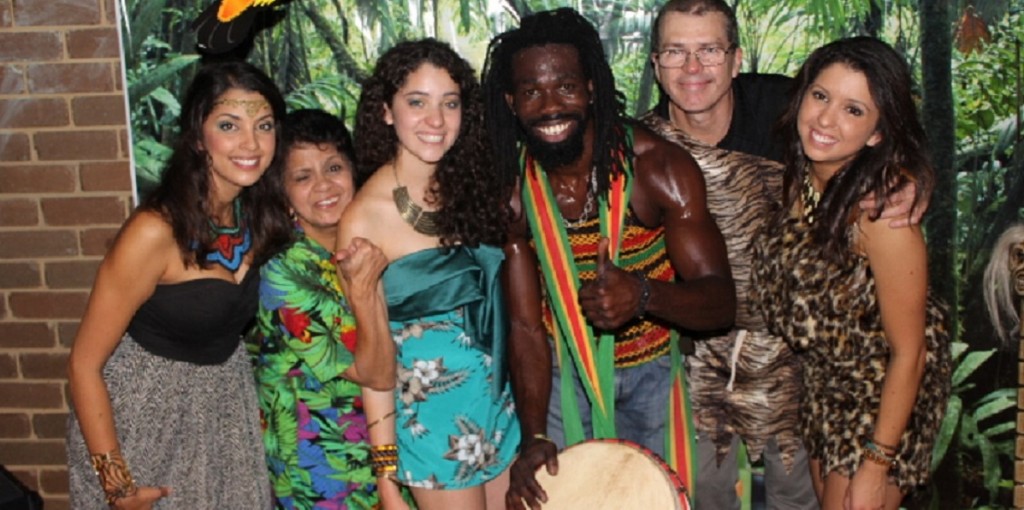 If you're planning a party and looking for something original then we're your team.
Our African parties are great fun and always memorable. We bring drums and shakers for everyone.
Whether it's a birthday, hens or bucks night, or a party for partyings' sake –
it'll be an awesome feature that everyone will be raving about.
Download the Parties for Adults Brochure
Interactive Parties
We usually deliver a mix of drumming, dancing and singing but we're always adaptable and can change it up to your specifications. Each performer has their own style and formula for a great event, though our sessions follow a basic structure that suits a 45 – 90 minute session. Usually, we kick off with a short performance and introduce ourselves, getting everyone excited about the music. We move into the fun quickly with drumming, including African rhythms and a great jam. We'll get them grooving too, with some tribal dancing and singing along the way. The party ends on a high so that everyone leaves feeling great.
We can also provide performance only entertainment; see our Bands & Ensembles.
FAQs
Is there a min or max group size?
We cater for groups of all sizes from 5 – 500. A minimum call out fee applies. We can always make it work.
What ages are the parties suited to?
All ages! We pitch our sessions to suit the group's dynamic.
Do you run other kinds of sessions?
We sure do: school workshops, corporate team-building, festivals, all abilities and council events: we've done it all.
Last minute bookings?
Yes! We are available on short notice and will do our very best to make it happen.
Where To Hold Your Party?
At Your Place
We can come to you and bring all of the drums and shakers needed to have a great time.
Need a venue?
We have a number of venues that we work with regularly and we are happy to assist in finding the perfect venue to suit your needs.
Enquiries, Quotes & Bookings
Fast track your quote by emailing us the following information. (a copy and paste does the trick).
Rates are calculated based on the type of event, number of participants, how many facilitators or performers are needed, location, duration and the all important client mandate.
We're known for our fast replies and quick turnarounds. We aim to provide a quote either on the spot, within the hour or on the same day.
Organisation:
Event date:
Event location:
Duration:
Number of participants:
Age of participants:
Contact name:
Contact ph (mobile pref):
Brief event description: