Day………………………… Tuesday
Beginners……….…… 6:30pm – 8:00pm
Intermediates………. 8:00pm – 9:30pm
Casual Rate…….…… $26 / $23 concession
Cycle Rate………….. $145 / $130 concession
Location………………. Palace Hotel (Upstairs), 893 Burke Rd, Camberwell
Ready to drum with us? Secure your place today!
Beginners Class: 
          Intermediate Class:
Walk-ins welcome :: Check the class welcome page for start dates :: If you have any questions please contact us
…………………………………………………………………………………………………………………………………………………………………………………………………………………
Teacher Profile: Laura Kirkwood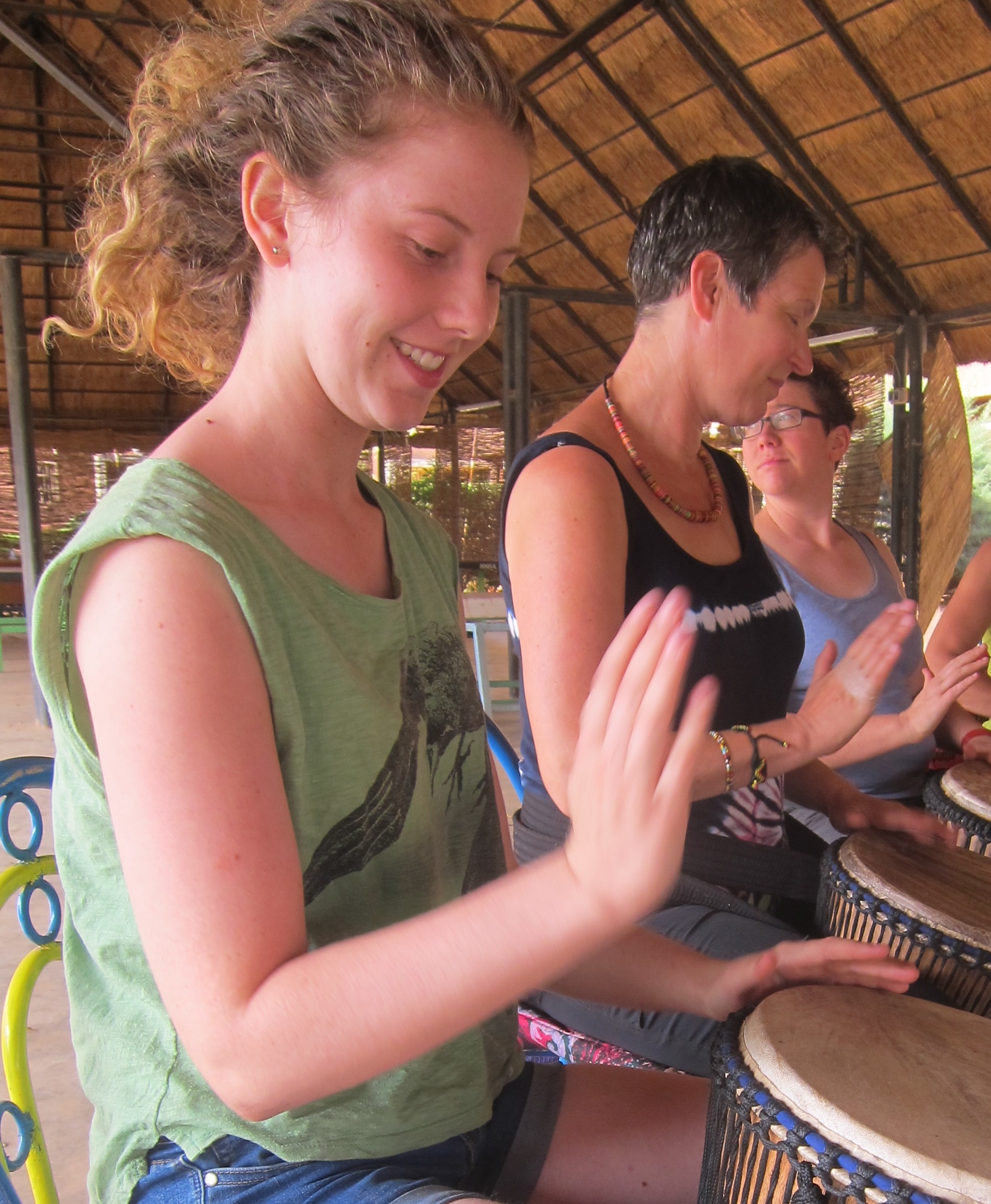 Laura has been studying percussion for over 12 years, touring and recording with various bands ranging from jazz to ska. Following the beat of her own drum, she attended African Drumming's 2013 tour to West Africa, studying with Master drummers in Ghana and Burkina Faso. She became fascinated in how music is central to the flow of life, igniting an interest to study different cultures music. After completing African Drumming's Teacher Training Course, Laura had the opportunity to teach workshops across Australia, and began teaching her own music therapy classes in Brisbane. Having studied Latin music at the University of Florida, she has since been accepted into postgraduate studies in ethnomusicology at the Melbourne Conservatorium of Music in 2017. Laura believes that music can transcend language barriers and is sometimes a language of its own.

…………………………………………………………………………………………………………………………………………………………………………………………………………………
About Beginners Drum Classes
Suitable for
Those with no or limited experience in hand drumming
What to Expect
The emphasis at the Beginner Level is on:
having fun
learning basic technique on the djembe (bass, tone and slap)
appreciating West African music
developing groove, control & listening skills
working together to become an ensemble
introducing soloing as a group
working on timing
exploring basic musical concepts
FAQs
How do I pay?
Please pay in cash at class
Do I need to bring a drum?
Only if you want to! We will have a drum ready for you at class – you don't need to have your own. Ask your teacher about renting a drum so you can practice between classes
Do I have to stay at one location for the Cycle?
It is wise. Each location teaches a different rhythm so you'll struggle if you switch it up
When can I move up to Intermediates?
Have a chat with your teacher to get a gauge on where you're at. We're always keen to see students progress to the next level! Students who have a musical background, are often ready after 1 or 2 cycles. Most students find the confidence to progress after 4 to 5 cycles.
I'm a kit drummer – can I skip the beginner's class?
Your experience will hold you in good stead, but hand drumming is a different kettle of fish. You'll need to take a least one beginners course to get yourself up to speed and comfortable with the djembe
…………………………………………………………………………………………………………………………………………………………………………………………………………………
About Intermediate Drum Classes
Suitable for
Those who have completed at least one Beginner Course or with some previous hand drumming experience
What to Expect
The emphasis at the Intermediate Level is on:
developing clearly differentiated tones and slaps
playing at faster tempos
understanding the relationships between bell, dunun and djembe
exploring different time signatures (like 4/4 and 6/8)
preparing full arrangements for performance
building on more difficult group solos and personal freestyling
maintaining a solid tempo and holding accompaniment parts within poly rhythmic structures
Our Advice
Students at this level should seriously consider investing in their own djembe. More intensive practice is needed beyond class to hold your own at the Intermediate level, and is essential if you're looking for an invitation to the Advanced Class. Check out our range of djembes here and talk to your teacher about a Student Discount Card
FAQs
I'm ready for more, but not quite ready for the advanced class. What shall I do?
Join Sessi Sessi via the Performance Skills Class!
I want to join the advanced class – can I get an invite?
We're always excited to advance a student up a level and stand out players players are often spotted at Tribalism. Be aware that the Advanced level is a real step up and requires practice. Talk to your teacher about the best way forward
…………………………………………………………………………………………………………………………………………………………………………………………………………………
2017 Class Cycles
#1 starts January 17th
#2 starts February 28th – Tribalism: April 9th @ Kindred Studios, Yarraville
#3 starts April 11th
#4 starts May 23th
#5 starts July 4th
#6 starts August 15th
#7 starts September 26th
#8 starts November 7th – Tribalism: December 17th @ Kindred Studios, Yarraville