We run regular workshops and learning intensives throughout the year. Welcoming casual players and regular students, these one off/short series classes focus on specific skill sets and instruments
With guest teachers and a wide range of material, they're a great opportunity to develop your playing and explore West African music

Typically once a month the team at African drumming will run specialty classes at the African Drumming Headquarters for those wanting to expand their djembe techniques and rhythm power.
Click on the Workshop title to view the Facebook event page.
Class dates will be:
Saturday June 17th – 11:00am – 12:00pm – Simon Fraser – Enduro Djembe
Saturday August 12th – 11:00am – 1:00pm – Dun Dun Dan – Dun Class
Saturday August 17th – 11:00am – 1:00pm – Dun Dun Dan – Dun Class
Location:
African Drumming, 252 St Kilda Rd, St Kilda
Drums supplied!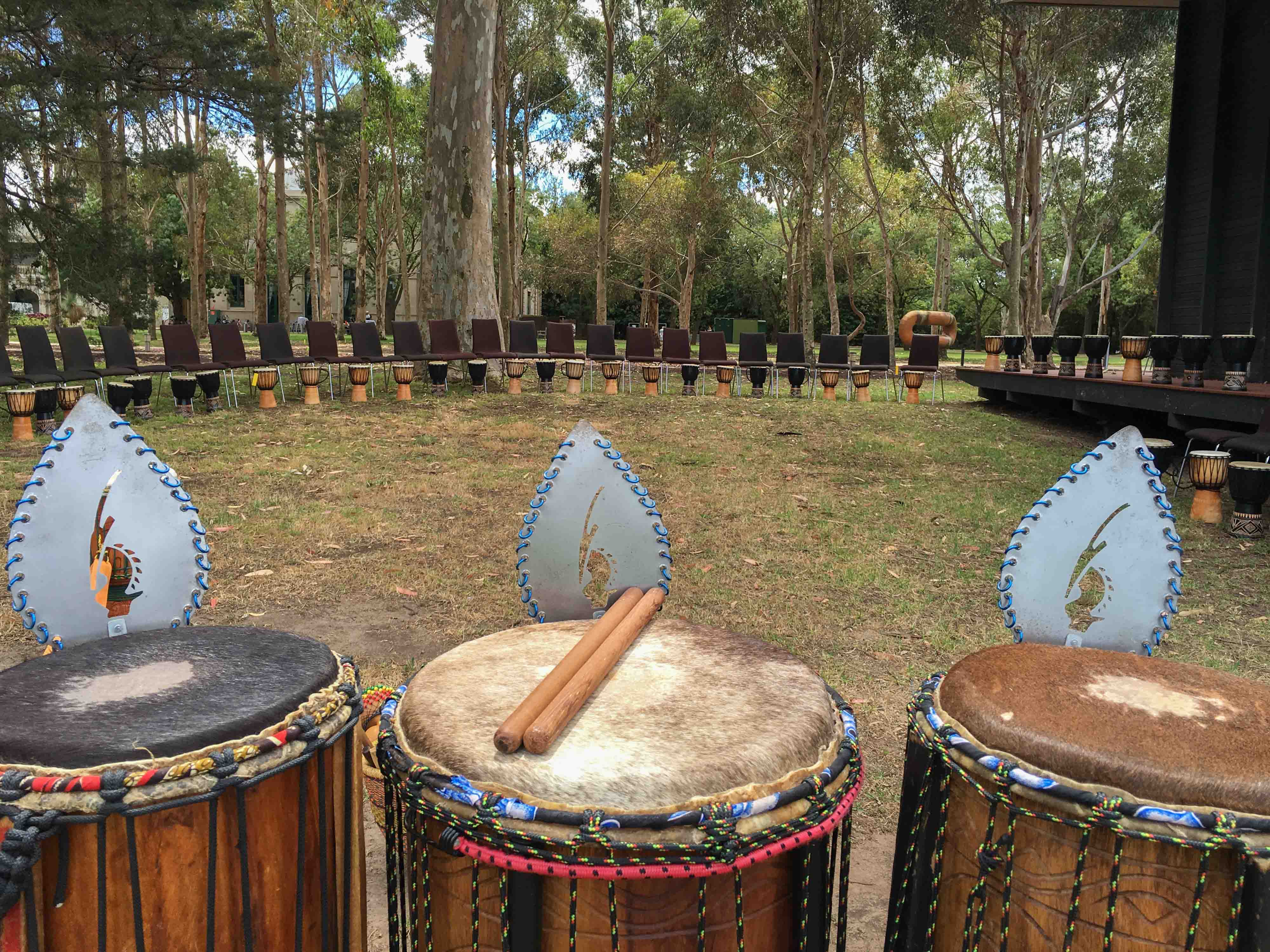 Dun Introduction class: The art of dun playing
Join DunDunDan as she shares the art of dun playing.
This special class will cover:
*Overview of various styles of playing, Ballet and Traditional
*Group dynamics and one-on-one adjustments.
*Provide students with the basic tools for:
*Independence
*Timing
*Dynamics (bell and stick striking)
*Stick technique
*Rudiments
The class will finish with 4/4 rhythm and jam!
Class Dates:
Saturday August 12th – 11:00am – 1:00pm – Dun Dun Dan – Dun Class
Saturday August 17th – 11:00am – 1:00pm – Dun Dun Dan – Dun Class
Where – African Drumming, 252 St Kilda Rd, St Kilda
Rate – $30 per class or $50.00 for both. You can purchase tickets to this class here.
Enduro Djembe – Musical fitness for body and mind
Focus your mind, open your ears and relax your body – a non-stop rhythmic ride is about to begin!
Enduro Djembe is an uninterrupted journey designed to improve your listening skills and strengthen your sounds, stamina and solo repertoire. We begin with technique and build into a steady groove, layering solo phrases until the final crescendo one hour later.
The Enduro Djembe classes will be aimed at specific experience levels, with catering for all participants.
The different levels will be:
1 – Beginner: little or limited experience
2 – Beginner/Intermediate: had formal training, with a minimum 40hrs on the djembe
3 – Intermediate: completed several courses, with 1+ year experience playing djembe
4 – Intermediate/Advanced: can solo in 4/4 time, and play in 12/8 time
5 – Advanced: can lead the music and an ensemble, can solo in 12/8 time
6 – Pro: professional musician with performance history
Enduro Djembe was developed by Simon Fraser, who will be leading the series.
Class Schedule:
When – Saturday June 17th – Level 5/6: Advanced/Pro:
Time – 11:00am – 12:00pm
Cost – $20
Where – African Drumming Headquarters – 252 St Kilda rd, St Kilda, 3182
Rhythm Power series
Simon has been developing his Rhythm Power program for over 20 years with annual trips to West Africa and workshops around the globe. Join him for a full rhythmic immersion into West African percussion and unlock your potential to solo and feel the music on a deeper level.
Simon`s theory on Djembe goes a little like this –
Our hands serve as conduits for our internal creativity. To execute our true personal groove and solos we need technique …. and lots of it. We need dexterity and no blockages or weaknesses in our bodies, especially on our non-dominant side. I have developed a range of exercises, grooves and rhythms to "free up" our physical constraints, give us more independence and achieve better sound and control out of our playing.
Classes will cover:
-African Musical concepts and Rhythmic Games
-Djembe Dexterity and Soling
-Ensemble Training including arrangements, songs and stamina
What level am I?
If you can play a distinct tone and slap and are comfortable with 4/4 and 12/8 rhythms, can solo in both time signatures and not get lost then head to the Intermediate 2 / Advanced class.
Bookings – info@africandrumming.com.au
Djembe 101

Join us for an introduction to the djembe and the fundamentals of West African ensemble music. Aimed at Beginner and Intermediate drummers, we'll focus on finding the right technique, ensemble dynamics and unpacking musical concepts, as well as take a look at the drum we love so much: the djembe.  101 was such a hit that we're bringing it back by popular demand! Each session covers different material, but you are welcome to attend any in the series – you won't be lost!
Teacher: Jeremy Prentice

Technique
Djembe……. bass, tone, slap and solid sounds
Ambidexterity
Patterns to challenge your hand coordination for both djembe and dun
Drums
How skin thickness, skin tension, and drum types all impact your sounds
Basic drum care, including how to tune your drum and how to store it
Notation & Time Signatures
A crash course in the (basic) maths of music, how to read it and how it feels including 4/4 and 12/8 time signatures
Dates: TBA…
Rate: $26/$23 per session
Location: African Drumming, 252 St Kilda Rd, St Kilda
Bookings
Please book in to any of the programmes above to secure your place
Our workshops are all held at ADHQ: African Drumming, 252 St Kilda Rd, St Kilda
info@africandrumming.com.au
(03) 9525 3073